Lowen's Natural Skincare
CAF-A-OK Hand, Face and Body Lotion
/
Every once in a while you come across amazing people doing incredible things and together, come up with something truly awesome.  Our new Caf-A-OK – Lotion That Makes You Happy is one of those rare instances.
Lotion That Makes You Happy?
Based upon the foundations of our wildly popular Rub it in Why Don't Ya! Hand and Body Lotion.  A unique lotion that utilizes locally produced beeswax (Alberta sourced), non-GMO Canola oil (High River, AB sourced) and Camelina oil (sourced 6 hrs from Saskatoon, SK) along with certified fair trade, virgin, coconut oil.   Caf-A-OK  is similarly all-natural, paraben free, non-toxic, non-comedogenic and does not have any added fragrances or colors.  It does have a decadent yet light coffee and chocolate smell thanks to fair trade, unrefined cocoa butter from Ghana and coffee oil from
 right here in Alberta from our friends at GroundUP Eco-Ventures.  Why is coffee oil cool?  Well, Shawn Leggett and co take spent coffee grounds, extract the  oil and then use the waste to make other novel ingredients like coffee flour.  Talk about upcycling!  While our lotion was already a winner, the coffee oil adds in even more therapeutic essential fatty acids.  The unrefined cocoa butter adds even more conditioning power. Both make it smell exquisite!
So where do you get this amazing new offering from Lowen's?  Aside from lowens.ca, you can hit up our friend Karen Judge at A Dose of Happiness in Banker's Hall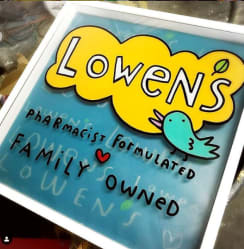 – downtown Calgary as well as on her website.  Our cobranded lotion will be available exclusively at Karen's amazing event center and store, which also happens to be the new home of Calgary Reads.  Our beautiful Lowen's display is right by their new space…you can't miss it.
The Art behind the Project:
Taking our collaborative efforts to the next level, Lowen's and A Dose of Happiness have teamed up with incredible local artist and friend Dean Stanton who added some original art pieces to our display space at A Dose of Happiness as well as creating the amazing design for our Caf-A-OK Lotion.
The Details:
Back to the lotion – hands down this will be the best lotion you have ever tried.  Expect an excellent overall skin moisturizer for all ages.  Also great for those suffering from a variety of skin conditions like: sunburn, eczema, psoriasis, severe dry skin
With that said, we'll let you be the judge. Here is a quick rundown of the product specs:
A little lotion goes a really long way. We suggest applying a dime-sized amount to each leg and arm. Two dimes worth to your torso… Yadda, yadda – you get the gist.  Don't overdo it, as you will come out of it feeling "greasy."  For a real life example, if you dispense a full pump, that's enough to cover both your arms.   This will vary depending on how dry your skin might be, hair coverage, relative humidity, earth's rotation, the beating of a butterfly's wings from two weeks ago in Guatemala…
As we use local, unrefined ingredients, the scent and consistency of the lotion may vary a bit from batch to batch.  This is based on the beeswax variety, growing and harvest conditions of the oil seeds, etc. But rest assured that the effects of Rub it in Why Don't Ya! will not vary.
For external use only

Net Wt. 200 grams/6.7 ounce (bottle),

As always: Cruelty Free (we only test on willing humans)
Meet the Business